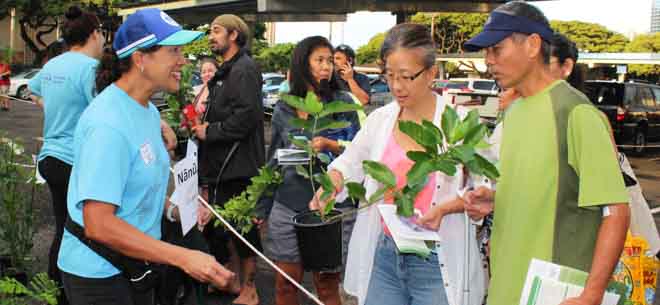 O'ahu Arbor Day Events
Saturday, November 7, 2020.
Pick up a free tree or shrub during the annual Arbor Day Hawaiʻi Tree Giveaway events across O'ahu. You'll be able to select from ever-popular fruit trees, beautiful flowering shrubs, and prized native plants.
 Locations on Oahu
The Arbor Day tree giveaway will take place at these sites. Dates and Times vary. Some sites are requested reservations. Click on each site for more details!
Kailua

Saturday, November 7th, 2020 | 7am-9am | (walk up location)

Kailua Town Center Parking Lot 
609 Kailua Road | Kailua, HI 96734 

Kūpuna Hours : 7-7:30 AM (Reservations NOT required. ID's will be verified)
Reserved Hours : 7:30- 8:30 AM (Reservation Only) RESERVE YOUR SPOT NOW
Walk-up Hours: 8:30 – 9:00 AM (Reservations NOT required, trees not guaranteed)
Kailua Giveaway will be at the same location as the Thursday Farmer's Market
Leeward Oʻahu
Saturday, November 7th, 2020 | 10am-12pm | (4 drive-thru locations)
HoaʻAina O Makaha 
84-225 Ala Nʻauao St

Kamaile Academy
85-180 Ala Akau St
Kalanihookaha Community Learning Center
@ Nanakuli Village Center behind Longs
Kamokila Texaco Station
484 Kamokila Blvd, Kapolei
North Shore 
Saturday, November 7th, 2020 | 9am-12pm | (2 drive-thru locations)
Waimea Valley Botanical Garden
59-864 Kamehameha Hwy
Waikomo Farms
56-1089 Kamehameha Hwy, Kahuku
Pearl City 
There will not be a drive-thru pick up scheduled for November 7th.
We are still working on reservation system for scheduled pick ups in the following days! Stay Tuned, and thanks for your patience!
Wahiawā
Friday, November 6th, 2020 | 2pm-Pau (or 6pm) | Drive-thru location
New Hope Center
935 Kilani Avenue, Wahiawa HI, 96786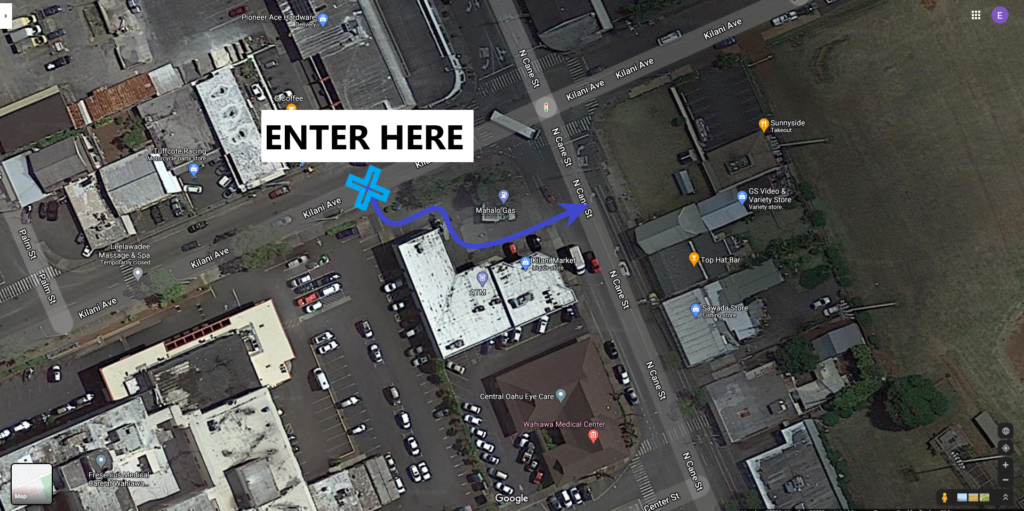 Please note this event is being held on FRIDAY the 6th, where all other sites are on Saturday.
Downtown Honolulu
This year, due to COVID-19 restrictions on gathering,  Arbor Day Hawaiʻi and the City and County of Honolulu Division of Urban Forestry (DUF) are partnering with the Girl Scouts of Hawaiʻi in lieu of a public distribution event at Foster Botanical Garden.
This partnership is based on the notion that our keiki are the future and we want to encourage them to learn more about urban and community forestry. We are working with their programming team to create educational material that coordinates with their Tree Badge and recorded a video that shows the girls how to properly plant the trees that they will receive. Additionally, the DUF Community Forester and the Office of Climate Change, Sustainability and Resiliency Community Forestry Specialist had a "talk story" with Girl Scouts who were interested in careers in urban forestry.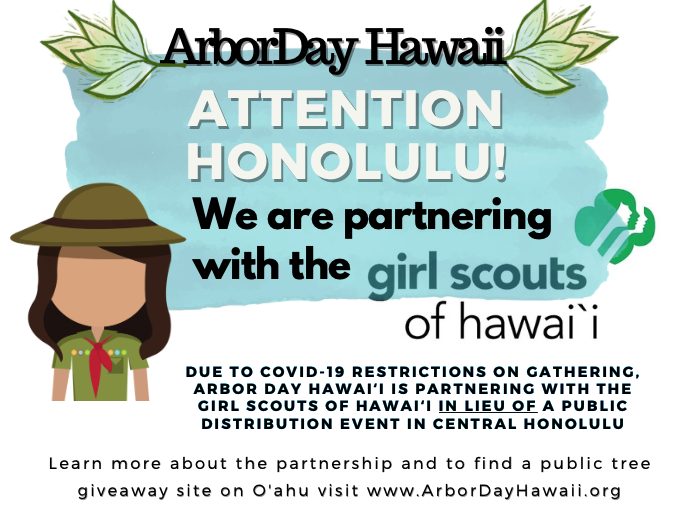 ---
Selecting your Tree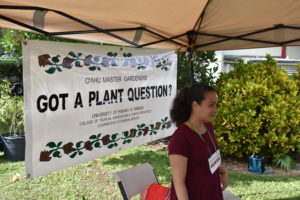 We want to make sure you select the right tree for your area – our motto is Right Tree, Right Place!
Be sure to take home a free tree care card to help you plant your trees and shrubs properly to maximize their cooling shade, while avoiding potential safety hazards.
---
O'ahu Arbor Day 2020 Plant Selection*
The following trees and shrubs will be given away (one plant per family), while supplies last. Tree species cannot be guaranteed, so have your top 3-5 species picked up upon arrival!
ʻAʻaliʻi (Dodonea viscosa)
Akia (Wikstroemia uva ursi)
Cacao  (Theobroma cacao)
Calamondin (Citrofortunella microcarpa)
Cape jasmine (Gardenia augusta)
Galli (Erythrina christa-galli)
Hala (Pandanus tectorius)
Hawaiian chili peppers (Capsicum frutescens)
Ice cream bean (Inga edulis)
Ilima kula (Sida fallax)
Koaiʻa (Acacia koaia)
Kula gardenia (Gardenia tubifera)
Marungay (Moringa oleifera)
Meyers lemon (Citrus x meyeri)
Milo (Thespesia populnea)
ʻOhe makai (Polyscias sandwicensis)
Pikake (Jasminium sambac)
Puakenikeni (Fagraea berteroana)
Samoan gardenia (Tabernaemontana africana)
Sour sop (Annona muricata)
Surinam Cherry (Euginea uniflora)
Tahitian gardenia (Gardenia tahitensis)
Tahitian lime (Citrus × latifolia)
Ti (green & color) (Cordyline frutocosa)
ʻUlu (Maafala) (Artocarpus altilis)
Wild sugar apple (Rollinia deliciosa)
Ylang-Ylang (Cananga odorata)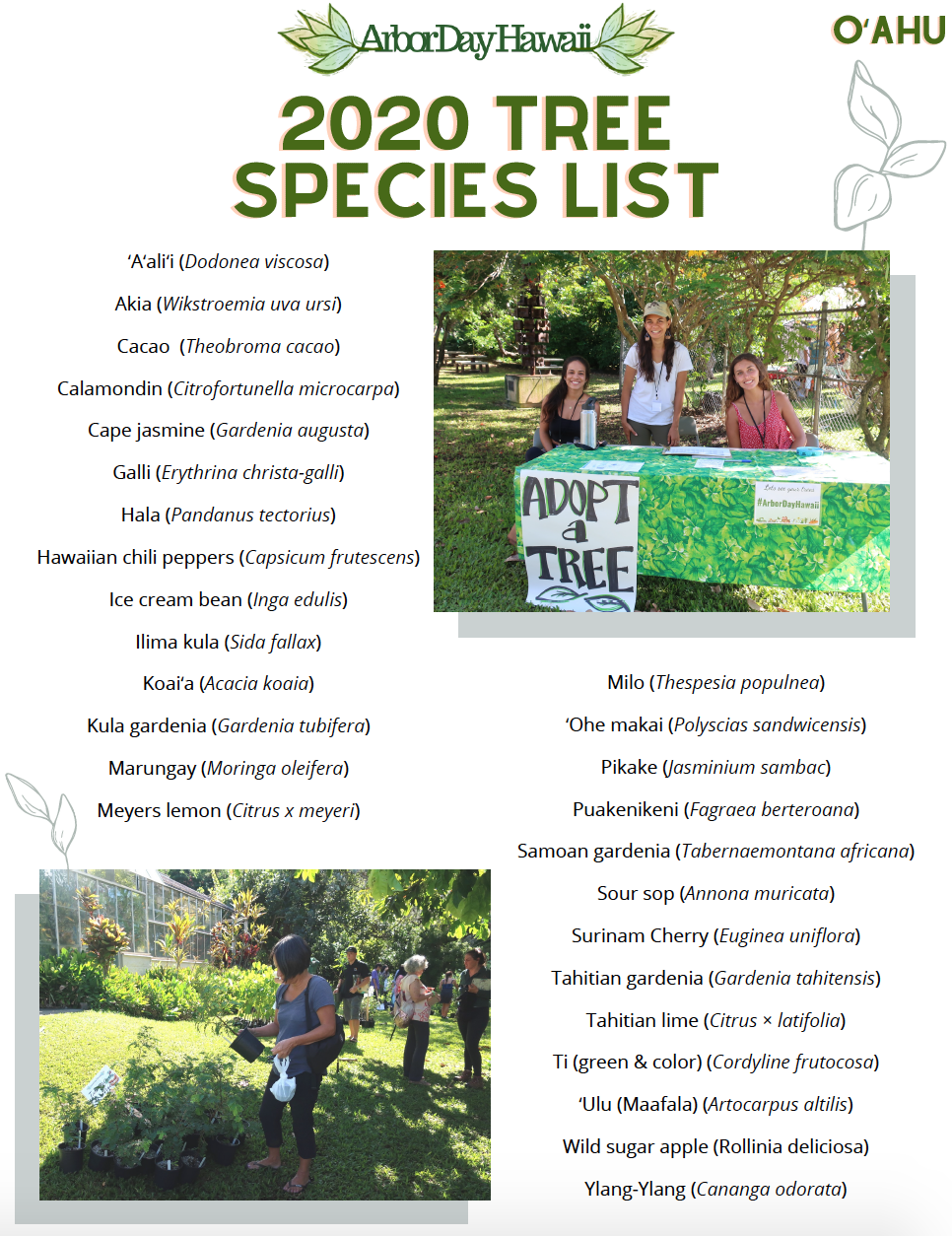 *subject to change
If you are interested in becoming a sponsor, volunteer, vendor, or educational partner, please send organizers an email here.
The Oʻahu Arbor Day giveaways are presented with support by the Kaulunani Urban & Community Forestry Program, US Forest Service, Hawai'i State Division of Forestry and Wildlife, City & County of Honolulu, Oʻahu Urban Garden Ohana, Aloha Arborist Association, University of Hawai'i Master Gardener Program, and Smart Trees Pacific.