Join us on Saturday, November 2nd for the second annual Arbor Day Honolulu Festival at Foster Botanical Garden!

Arbor Day Honolulu Festival will not only be a site to pick up a free tree for Arbor Day Hawai'i, but a community celebration of all things trees!
Foster Botanical Garden will open to the public at 9:00 AM. At arrival, attendees will check in to receive a pick up number and wait to be called in groups to receive their free tree (limited to one tree per family, while supplies last).
Community members will have access to educational booths, fun activities, workshops, vendors, and live performances as they wait for their tree.  Attendance to the tree giveaway includes free admission to Foster Botanical Garden, a beautiful 14-acre urban forest sanctuary in the midst of downtown Honolulu.
~ Tree Giveaway
~ Tree Care Tips
~ "Ask the Arborist"
~ Activities & Workshops
~ Educational Booths
~ Keiki Art Projects
~ Guest Speakers
~ Performances & More
Fun and engaging for all ages!
Festival partners, activities, and workshops!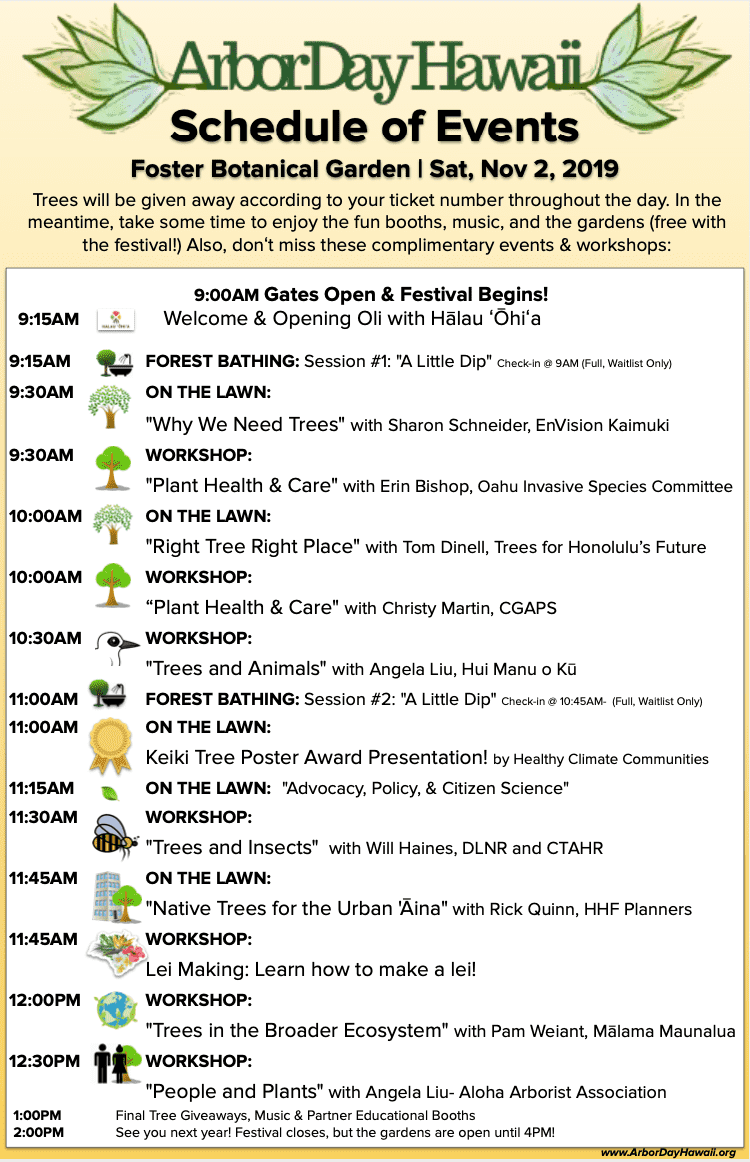 Blue Zones Project & Forest Bathing Hawai'i
Join us to experience a free introduction to forest bathing! You'll get some background on this evidence-based wellness practice inspired by the Japanese "shinrin-yoku," then you'll be invited to try some of the nature connection activities in a section of the Foster Botanical gardens. Your brief taste of forest bathing will end with a sample of a forest tea made from one of Hawai'i's endemic healing plants.
Session 1: check in at 9:00 a.m.; 9:15 – 10:15 a.m.
Session 2: check in at 10:45 a.m.; 11:00 a.m. – 12 noon
Free of charge; advanced reservation required. Check back for registration link in September. Limited to 25 people per session, ages 8 and above.
O'ahu Arbor Day 2019 Plant Selection*
The following trees and shrubs will be given away (one plant per family), while supplies last:
Fruit/ Edible
Meyor Lemon
Sour Sop | Annona muricata
Macadamia nut | Macadamia integrifolia
Ulu | Artocarpus altilis
Tangerine | Citrus tangerina
ʻŌhiʻa ʻAi "Mountain Apple"
Calamansi
Native
Ohai | Sesbania tomentosa
ʻilima kū kula | Sida fallax (shrub form)
Kokiʻo keʻokeʻo | Hibiscus arnottianus subsp. punaluuensis
Ko'oloa 'ula | Abutilon menziesii
A`ali`i | Dodonea viscosa
kokiʻo 'ula 'ula | Hibiscus kokio
Milo | Thespesia populnea
Kukui | Aleurites moluccana
Kou
Other Trees/ Shrubs
Gardenia jasmine | Gardenia jasminoides
Schaueria | Schaueria calycothrica
Plumeria 'Bridal bouquet'
Olena | Cucurma longa
Green Ti
Lip stick plant | Bixa orellana
Tamarind
*subject to change
Arborists and volunteers will be on hand at each site with information on the best growing environment and tree care practices for each tree.
We are actively seeking community groups, businesses and organizations that would like to get more involved with Arbor Day!
If you are interested in becoming a sponsor, volunteer, vendor, or educational partner, please send organizers an email here.